Vegan / Vegetarian Burger recipe
This vegetarian burger recipe is full of so many tasty ingredients like sweet potato, quinoa and black beans—but there's more! There's also a spicy vegan parsley dip.
Sweet potato's are excellent source of beta-carotene, potassium and a useful source of vitamin C. Despite the sweetness, sweet potato are starchy vegetable. They supply about the same amount of calories as new potatoes 84 calories per 100 g portion. There are two types of sweet potato the moist orange variety and the dry, creamy flash type, both are source of potassium, vitamin c and fibre.
Black beans are earthy flavoured, pea sized been used in Latin American Chinese and Japanese cuisine. They are good source of protein and fibre, low in fat, source of minerals and  B vitamins, due to which they help to control blood sugar levels and also helps to lower blood cholesterol levels.
Try this vegetarian burger recipe for your lunch or dinner. you can do a batch cooking for few weeks and freeze them for the days when you don't have time to cook.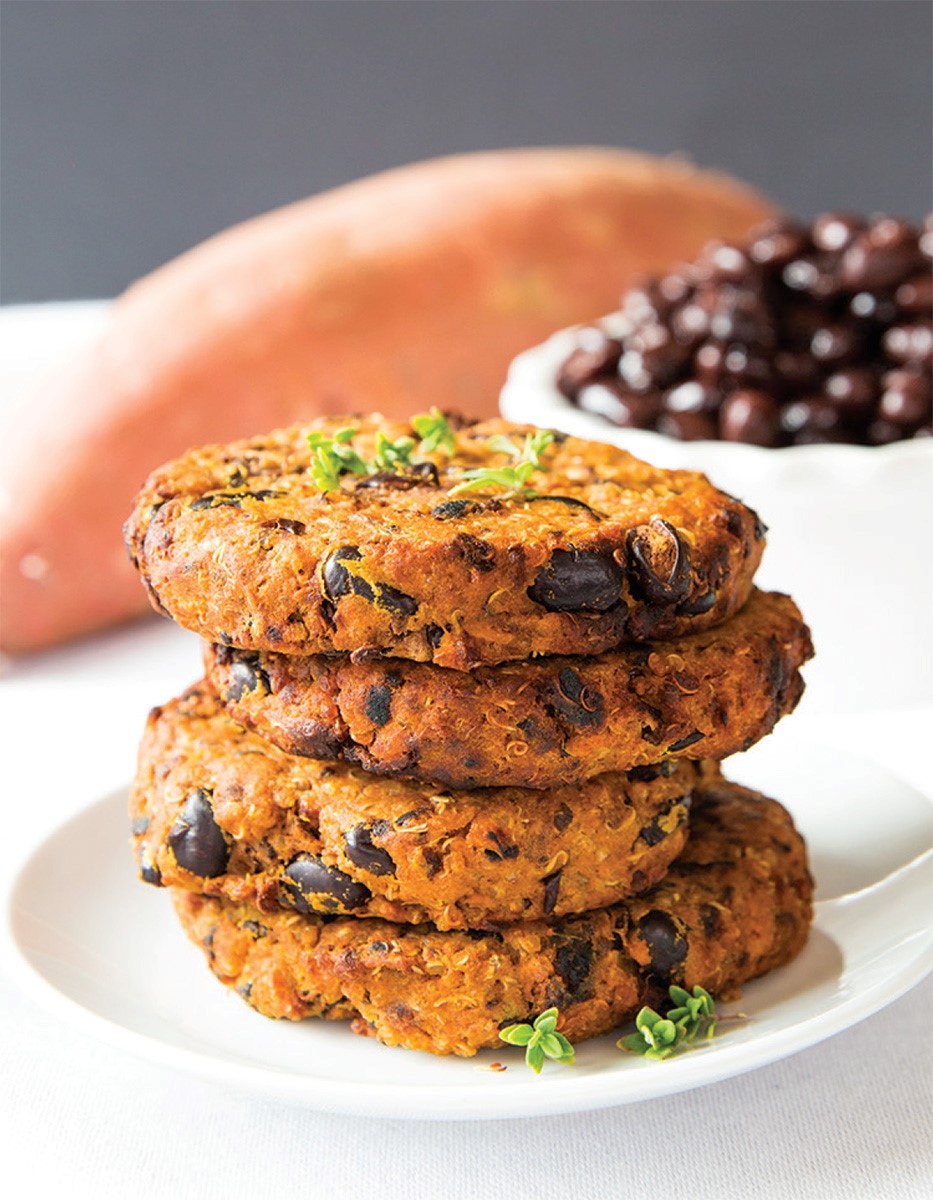 sweet potato & black bean Burgers

YIELD : 6 SERVINGS

PROTEIN : 61/2 grams per serving (2 Patties)
Soaking Time : 8 hours
Course : Dinner, Snack

Prep time : 25 minutes
Method : Freezer friendly

Cook time : 55 minutes
Diet : Vegan, Vegetarian, Gluten free

Ingredients
Burgers
2 medium sweet potatoes, peeled and chopped into 2-inch cubes (equal to 2 cups mashed sweet potato)
1 cup quinoa
2 tablespoons extra virgin olive oil, divided
¼ cup diced onion
2 tablespoons raw shelled hempseed
¼ teaspoon paprika
¼ teaspoon ground cumin
1 14-ounce can black beans, drained and rinsed
Spicy Yogurt Parsley Dip
¼ cup vegan yogurt

½ 

bunch of parsley
1 garlic clove
salt to taste
Instructions
Vegetarian Burgers
1. Place the sweet potato cubes in a medium saucepan and cover with water. Cover and bring to a boil and then turn the heat down to medium high. Cook with the lid cracked a bit, about 15 minutes or until you can pierce the sweet potatoes with a fork. Drain and mash. Set aside.
2. Cook the quinoa in another saucepan: place quinoa in a sieve and rinse well. In a small saucepan, combine quinoa and ⅔ cup water. Bring to a boil, cover, and reduce to a simmer. Cook for 10 to 15 minutes or until the water is absorbed. Remove from the heat and let set with the cover on for 5 minutes. Remove lid and fluff.
3. Meanwhile, add 1 tablespoon of oil to a skillet and heat to medium high. Add the onion and sauté for about 10 to 15 minutes or until translucent.
4. To a large bowl, add the mashed potatoes, quinoa, sautéed onion, hempseed, paprika, cumin, and panko and stir well. Stir in the black beans. Make twelve balls and then flatten to patties that are about ¼ inch thick.
5. Add the remaining oil to a skillet and heat to medium high. Brown the patties on each side for about 3 to 5 minutes or until lightly browned or grill them in the oven. 
Spicy Yogurt Parsley Dip
6. Mix all the dip ingredients together and blend thoroughly.
7. Serve in a bowl alongside sweet potato and bean burgers.
Notes
Have it with your favourite chutney or dip.
You can replace black beans with any other beans.
Vegan / Vegetarian Burger recipe
COMMENTS
Why not let us know, if you have tried the recipe or have questions regarding the recipe.