kale pesto veggie wrap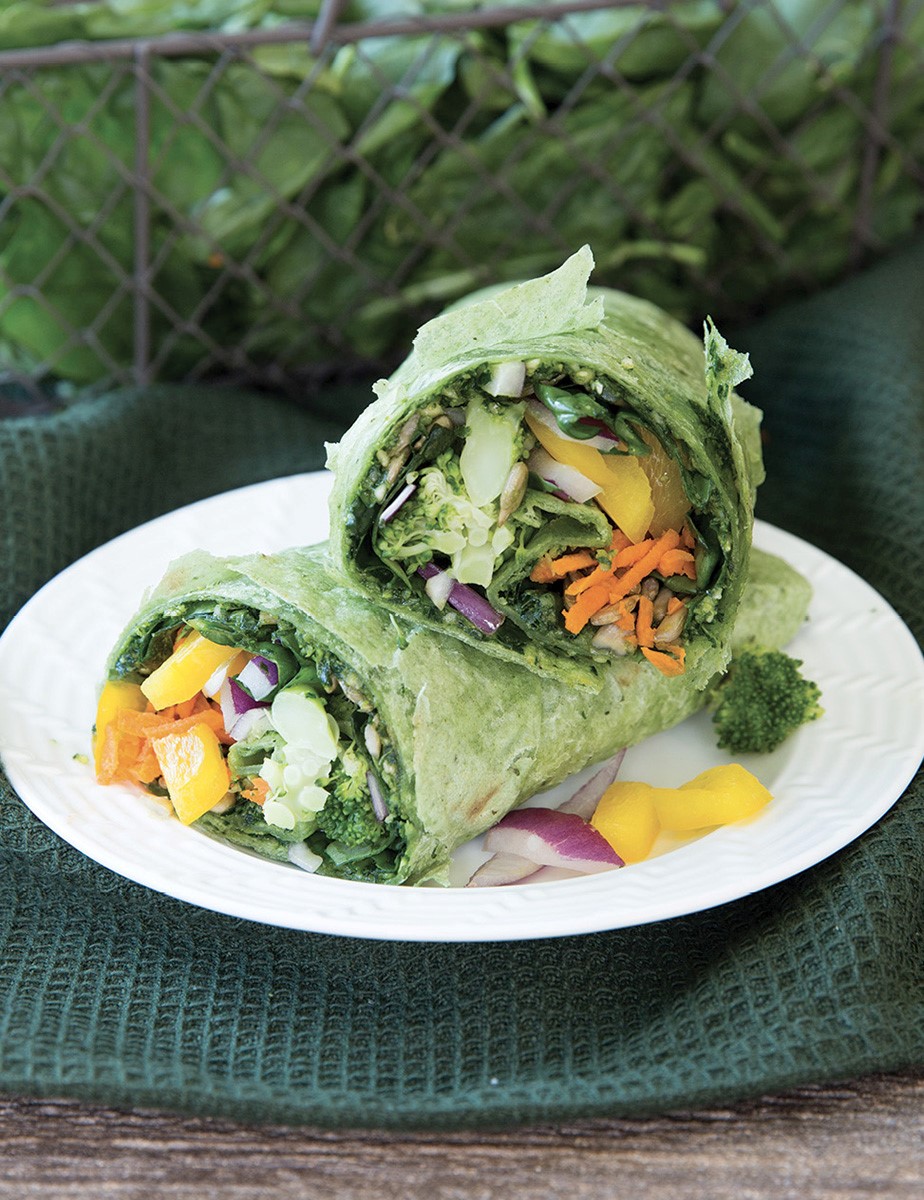 This ultimate kale pesto veggie wrap is full of nutrients. Pretty in green on the inside and out. Tender broccoli and fresh carrot and spinach layers add to the flavourful kale pesto before you roll these up for your first bite.
Broccoli is an excellent source of vitamin C, useful stores of beta carotene, contains folate, iron and potassium, helps to protect against cancer. One portion of boiled broccoli 100g provides just over half the recommended daily intake of vitamin C, a useful amount of beta-carotene which the body converts into vitamin A and some Lutein, folate, iron  and potassium. The darker the florets like purple, green or deep blue green the higher the amount of both vitamin C and beta-carotene.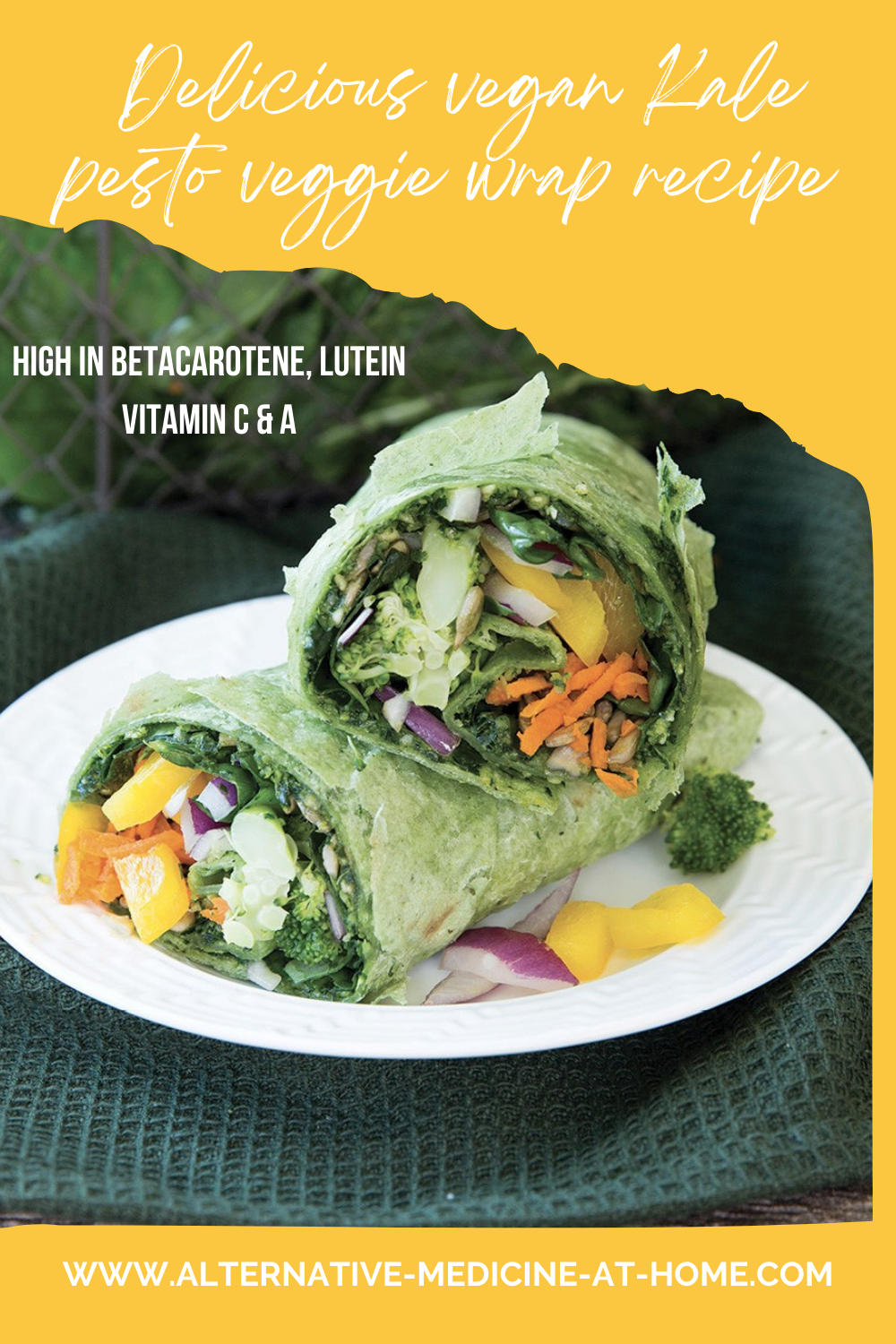 Carrot is the source of beta-carotene, the plant form of vitamin A. the greatest nutritional benefit of the carrot is that it is an excellent source of beta-carotene. Research has linked low  Beta carotene levels in the blood decreases the risk of some cancers.
There is also evidence that high intake of beta carotene may help to protect against damage caused by free radicals. The body converts beta-carotene into vitamin A, which is needed for healthy vision as well as the maintenance of mucous membranes.
Spinach is high in carotenoids, and a good source of vitamin C, good source of potassium, useful source of folate and lutein. Spinach contains high concentrations of carotenoids, especially beta carotene and lutein both are antioxidants which partially explains why several studies have shown that eating the green vegetables might help to protect against cancer.
The text highlighted in red on the recipe card are the links, where you can purchase the product.
If you purchase a product through links suggested on this page, I receive a small commission at no cost to you. I am suggesting it as I am asked a lot about where to purchase it from. I recommend to buy and purchase organic food ingredients where feasible. Your support is greatly appreciated and it helps us spread our message.

kale pesto veggie wrap

YIELD : 2 SERVINGS

PROTEIN : 24 grams per serving
Soaking Time : 2 hours
Course : Lunch, Dinner, Snack

Prep time : 10 minutes
Method : Freeze friendly

Cook time : 10 minutes
Diet : Vegan, Vegetarian

Ingredients
Kale Pesto
Wrap
Instructions
Kale Pesto
1. Place the cashews, kale, garlic, and salt in a small food processor. Process for about 30 seconds. Add the nutritional yeast and oil and process a few more seconds until well blended. Set aside.
Assembly
2. Add water to a medium saucepan with a steamer insert and bring to a boil. Add the broccoli to the insert and steam over boiling water for 10 minutes. Remove from steamer and set aside.
3. Lay out the spinach tortillas. Divide the kale pesto between the two tortillas and spread evenly, leaving about 1 inch around all edges. Divide the remaining ingredients in half and lay out each half next to each other and down the length of each tortilla.
4. Start to roll up snugly, without tearing the tortilla. Cut each tortilla in half and serve. Enjoy this delicious kale pesto veggie wrap full of nutrients.
kale pesto veggie wrap
COMMENTS
Why not let us know, if you have tried the recipe or have questions regarding the recipe.