Aromatherapy Oils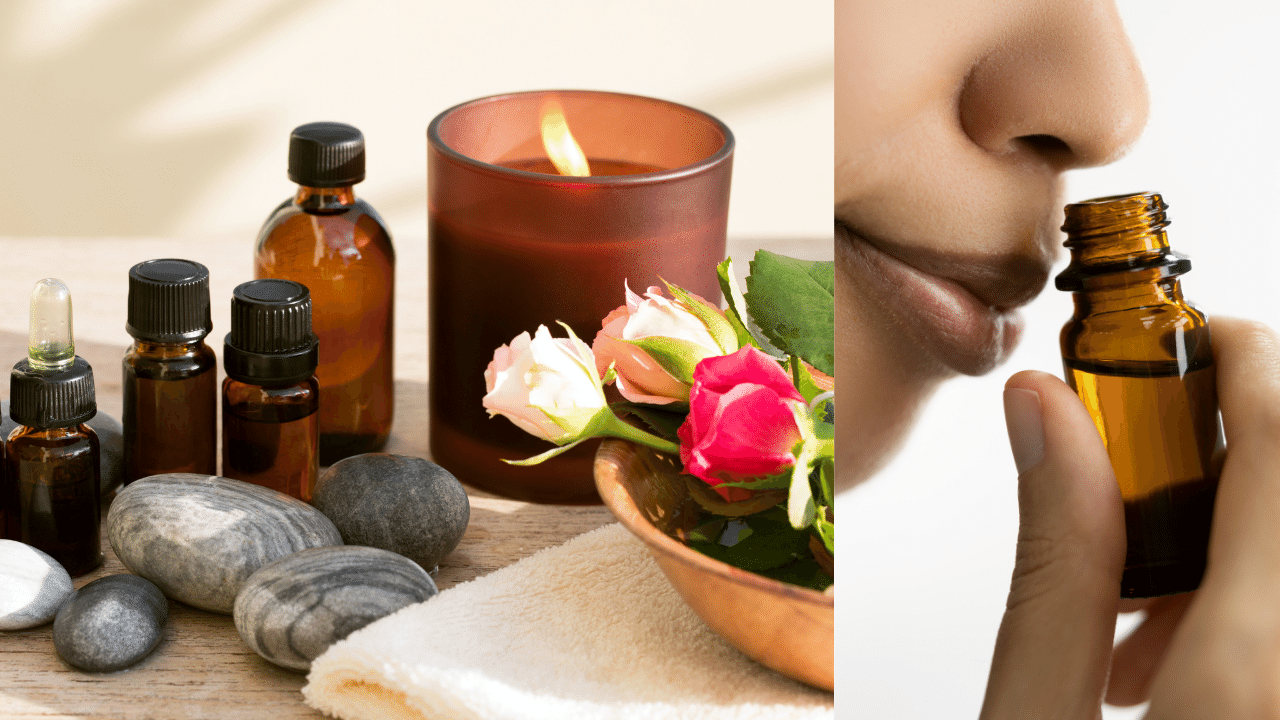 Some Important Aromatherapy oils to keep at home and their properties-

Aromatherapy oils have many health benefits, you can use them for calmness, mindfulness and destressing. You can use them by adding it to the diffuser, inhalation, adding them in the bathwater or massaging with them.
Always dilute oils in the carrier oils (grapeseed, sunflower, sweet almond, sesame, soya) for massage.
The usual proportion are 15 drops of essential oil to 60ml of carrier oil for the full body massage. For a smaller area such as face use 5 drops to 30ml.
When massaging do not use oils on the eyes as this may irritate the delicate tissues of the eyes. Do not exert strong pressure on the soft tissue of the abdomen.
Some of the best aromatherapy oils to keep at home, with their properties. 
Angelica

Calming, good for digestion, antiseptic, antiviral. Do not use during pregnancy. Photo-toxic, so avoid exposure to sunlight after use.

Chamomile

Relaxing, promotes sleep, anti-inflammatory and relives pain for conditions like arthritis and back pain.
Citronella

Good for aches and pains. Also good as an insect repellent. Do not use this oil during pregnancy.

Clary sage

Warming and soothing. also helps in alleviating menopausal symptoms and menstrual cramps. Do not use this oil during pregnancy.

Eucalyptus

Antiseptic, decongestant, antiviral. During cold and cough massage it on the chest, back and forehead. When suffering from cold put few drops on napkin and inhale it.

Frankincense
Warming, relaxing, uplifting. Relieves confusion and guilt, eases paranoia, promotes awareness.

Geranium

Soothing, relaxing, antidepressant. It reduces feeling of stress, sadness and fatigue, also enhances concentration.

Jasmine

Uplifting, relaxing, good for cramp. Overcomes apathy, reduces fear, helps to relieve oversensitivity.

Lavender

Soothing, relaxing, antidepressant, antiseptic. Giving the massage with lavender before sleeping helps in insomnia.

Lemon

Refreshing, stimulating, antiseptic. Phototoxic, so avoid exposure to sunlight after use.

Myrrh

Warming, relaxing, anti-inflammatory. Helps in menstruation. Do not use this oil during pregnancy.

Peppermint

Cooling, good for digestion, mentally stimulating. Never use undiluted or before sleeping.

Patchouli

Helps to clear thought, sharpen wit, relieves anxiety and depression. Its also antiseptic. 
Tea tree

Antifungal, antiseptic. It help in almost all kind of skin infections. Appling tea tree oil on the infected area helps in healing ringworms and other skin problems.

Rosemary

Stimulating, refreshing. Do not use this oil during pregnancy or if suffer from epilepsy.

Ylang-ylang

Euphoric, aphrodisiac, relaxing and calming, instils feeling of peace.. Use in moderation.

---
---
If you have a great aromatherapy oil story that you have used and how it helped you, then why not share with us.
Do you have a great story about this?
Share it!